Where Massimo takes centre stage
Welcome to our exclusive space for bespoke private dining. Feast with family and friends in a scrumptious setting, and enjoy Massimo's wonderful creations – from delicate crudo and steaming bowls of fresh pasta, to succulent fish and seafood for sharing.
Set away from the main restaurant, our private quarter is a discreet sanctuary for up to 18 guests seated at one table.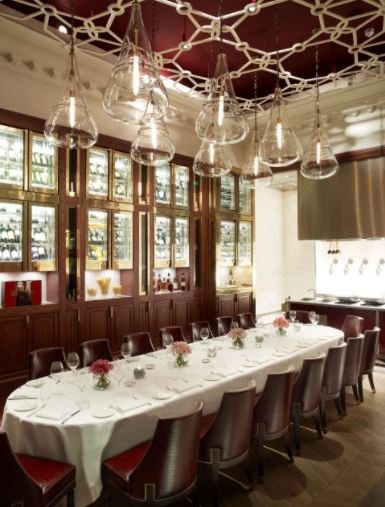 Beautifully decorated in plush fabrics and wood panelling, this is as bespoke as dining out can get, and where Massimo really takes centre stage. You can watch as he cooks your choice of dishes from the state-of-the-art kitchen within the dining room itself, and gain insight into the workings of this innovative chef.
From delicious assaggi to whet your appetite, to the decadent main event and something sweet for afters, Massimo will craft a Mediterranean menu that's just to your tastes – and all before your very eyes.
Meanwhile, of course, our sommelier will recommend the perfect vino accompaniment, and our team will be on-hand to see to any other requests that you may have.
So for a truly unique gastronomic experience, please Contact Us now.
Celebrations
Le Feste con Massimo!
The Massimo family is all for celebrating the good times! So, if you've got something to celebrate, then we look forward to transforming it into an occasion that will be remembered forever.
You and your guests will wine and dine on the very best from Massimo's menus, and all in truly sumptuous surroundings. Meanwhile, our exceptional team will ensure no stone is left unturned until you're completely happy with the way things turn out.
Contact Us now to discuss the truly bespoke options available.
Tying the Knot? Make it magical!
Massimo is a dream location for a wedding that's sprinkled with Mediterranean passion, fuelled with great Italian flavours and finished with elegance.
Celebrated conceptual florist Ercole Moroni will help to take your dreams for your big day and make them happen. From the flowers – of course! – to the table decorations, Ercole will inject his trademark sense of style and panache. Meanwhile, Massimo will be on-hand to craft a menu perfectly matched to you, the happy couple.
Ready to make your dream wedding a reality?
Enquire now – we can't wait to hear from you!